Michael Julien's Family History
Return to Home Page

---
EDWARD RICHARD WOODHAM

A further piece of information about my family background arises on my mother's side of the family. Her grandfather Edward Richard Woodham was at Balaclava (Balaklava in the Ukraine) and survived the Charge of the Light Brigade on 25th October 1854 where, as a private in the 11th Hussars Regiment, he was one of the glorious "Six Hundred" who charged the Russian guns at Balaclava with the loss of some 450 men.

The "Charge" was immortalised by Tennyson in his poem: The Charge of the Light Brigade
Edward Richard Woodham went on to become Chairman of the Balaclava Committee who held a reunion dinner on Monday 25 October 1875 at Alexandra Palace in London to celebrate the 21st Anniversary of the Charge. The Illustrated London News of Saturday 30th October 1875 carried a full report of the proceedings and transcripts of the speeches which can be downloaded here: The Balaclava Banquet The file is in pdf format and is 3.9mb.
In the report, there are also included recollections of the Charge by some of the people who attended the reunion dinner. The recollections of the Charge by Edward Richard Woodham are reproduced in the attached file: Recollections of the Charge by ERW . My great grandfather Edward Richard Woodham died on 12th December 1886 aged 55 and is now buried in Highgate Cemetery, London (Located in "Square 121" number 27283).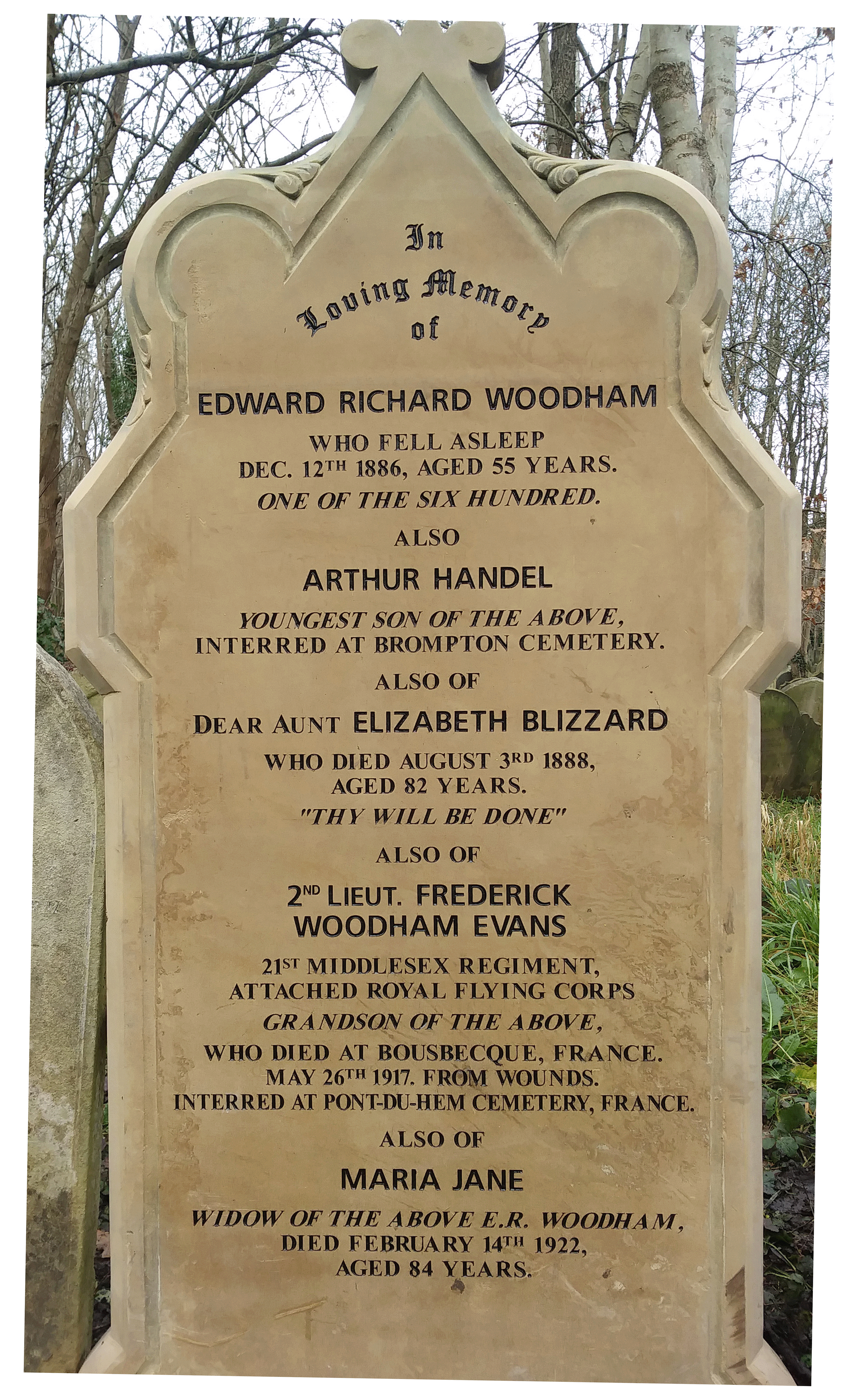 This work is licensed under a Creative Commons Attribution-Share Alike 3.0 Unported License.

Here is a link to a higher resolution version: E-R-Woodham-Grave.jpg


Further information about Edward Richard Woodham
The Hussars' museum has confirmed that Edward Richard Woodham had enlisted in the 11th Hussars in June 1847 and that after the "Charge" he had spent a short period in hospital. The Bristol Town Council archive office has confirmed that Edward Richard Woodham was born on 20 February 1831 and his father (a cooper) was born on 18 November 1798. Both were born in Bristol and were baptised at St. Paul's Church in Bristol.


Edward Richard Woodham and Maria Jane Blizard were married on 5 October 1864. They had four children including my grandmother Emma Maria Woodham whose only son, Frederick Woodham Evans, served in the First World War and died in action on the 26th May 1917. Frederick Woodham Evans was commissioned as a second lieutenant into the 21st Middlesex Regiment and died whilst attached to the Royal Flying Corps.. See short biography and citation here.


The short biography and citation referred to above is in a book called "Roll of Honour of the Empire's Heroes" which includes some 140 short biographies and citations of officers killed in WW1 including three who won the V.C. The book was printed for private circulation at a cost five pounds and five shillings. The full list of the officers included can be found here: List of officers in Roll of Honour.

The short biographies and citations of the three officers who were awarded V..C's are as follows and can be found here:


Captain James Anson Otho Brooke V.C. of the Gordon Highlanders: Captain Brooke
Major William La Touche Congreve V.C. D.S.O. of the Rifle Brigade: Major Congreve
Captain Gerald Robert O'Sullivan V.C. of the 27th Royal Inniskilling Fusiliers: Captain O'Sullivan


Birth certificates obtained from the General Register Office at St. Catherine's House showed the following children:

Name Born District

Edward Richard Woodham 20 January 1862 Pancras

William Charles Woodham 14 December 1863 Weymouth

Emma Maria Woodham 02 August 1865 Weymouth

Alfred Cossham Woodham 04 December 1866 Weymouth

Other links of interest are:
---